What You Need to Know About Powder Eyebrows
Powder eyebrows, also known as "ombre" or "shaded" eyebrows, is a cosmetic tattooing technique that involves filling in the brows with a soft, powdery finish. This method is achieved by using a digital machine or a traditional rotary machine, which is used to deposit pigments into the skin, creating a natural-looking, soft effect.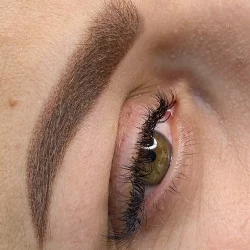 Powder brows can be a great option for those who want to enhance the shape and fullness of their brows without the need for daily touch-ups with makeup. The procedure can be used to fill in sparse or patchy brows, create a more defined brow shape, and even out asymmetrical brows.
Before the procedure, the artist will consult with you to determine the shape, color and thickness of the brows that you desire. A numbing cream will be applied to the area to minimize any discomfort during the procedure. During the procedure, the artist will use a handheld tattoo machine or a manual tool to carefully deposit pigments into the skin. The pigments are chosen to match your natural hair color or the desired color for the brows.
The process takes about 2-3 hours and the final result will be semi-permanent, usually lasting around 1-3 years, depending on skin type, lifestyle and sun exposure. The healing process can take about 7-10 days, with some redness, minor swelling, and dryness on the area. It's important to follow the aftercare instructions provided by the artist and avoid sun exposure and sweating during the healing process.
One of the main benefits of powder brows is that they can provide a natural-looking, full brow with minimal maintenance. They are also great option for those who have difficulty applying makeup due to vision or dexterity issues.
It's important to note that before choosing the artist, you should do a research and ask to see their portfolio, ask if they have an experience doing powder brows and follow their recommendations. As the procedure is semi-permanent, choosing the right technician and the right color is crucial to obtain the desired look.
Overall, powder brows can be a great option for anyone looking to enhance their natural brows and make their everyday makeup routine a bit easier. With proper care, the results can last for several years, providing a convenient and long-lasting solution for beautiful brows.