Tricks to Longer Lasting Eyelash Extensions
Eyelash extensions are becoming a popular treatment in recent years that can give you longer, fuller, and more defined lashes. Since they ca be expensive, it's important to take care of them to make sure they las as long as possible. In this blog post we put together a few recommendations for longer lasting eyelash extensions.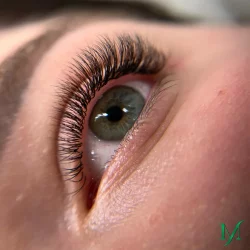 Choose a reputable technician: The quality of your extensions will depend on the skills and experience of the technician. Choose someone who is experienced, licensed, and uses high-quality materials. Make sure you do your research, check Google reviews, maybe they have a photo gallery with their recent work on their website. These are small details that could be very helpful for you.
Avoid water and steam for 24 hours if the technician didn't use Ultra Bonder.
Wash daily with lash shampoo or lash cleanser.
Don't touch or rub your eyes: Resist the temptation to touch or rub your eyes, as this can cause your extensions to fall out prematurely. If you need to clean your eyes, use a soft, lint-free cloth or a disposable mascara wand.
Use oil-free products: We recommend that our client avoid oil-based products before and after their appointment. They can break down the adhesive and cause their lashes to fall out. This includes makeup remover, cleansers, and moisturizers.
Brush your lashes regularly: Use a clean mascara wand to brush your lashes regularly. This will help to prevent tangling and keep them looking neat and tidy.
Sleep on your back: Try to sleep on your back to avoid putting pressure on your lashes. If you must sleep on your side, use a special pillow designed for use with eyelash extensions.
Get regular touch-ups: Eyelash extensions will naturally shed over time, so it's important to get regular touch-ups to maintain their fullness. Most technicians recommend touch-ups every 2-3 weeks.
These recommendations will help you maintain your eyelash extensions and will give you a beautiful, natural-looking flutter for weeks to come.
Please contact us if you have any questions. Our technicians are trained and developed to provide the ultimate level of service for all our clients. Our Eyelash Extensions salon is located in Downers Grove and has provided the best eyelash extensions, eyelash lift & tint, eyebrow sculpting, and permanent makeup services for clients from Naperville – Downers Grove area and has been a leader in the eyelash extension industry.