Top 3 reasons why you should clean your lashes
If you have eyelash extensions, you might be tempted to skip the step of regularly cleaning your lashes at the end of the day. Many people don't know how important this is. Failing to clean your lashes regularly could lead to a range of problems, from eye infections to damage to your natural lashes. In this post, we'll share with you our top three reasons why you should clean your lashes on a regular basis.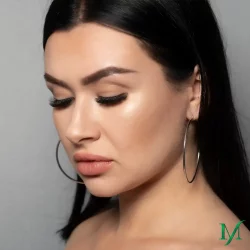 1. Prevent Eye Infections
The most important, for most people – is lash retention. Where lashes have been exposed to a lot of oil like whether from naturally occurring oils in the skin, or products that contain oil, they generally won't last very well. The area around your eyes is very vulnerable to bacteria, dirt, and oil buildup, which could also lead to eye infections. These particles can accumulate on your lashes and increase your risk of eye infections. By cleaning your lashes regularly with a gentle cleanser, you can remove these particles and reduce your risk of infection and your lashes will last longer!
2. Protect Your Natural Lashes
Wearing eyelash extensions can be tough on your natural lashes. When you don't clean your lashes, dirt and oil could build up and could cause your natural lashes to become brittle and weak. In some cases, this can even lead to lash loss. By cleaning your lashes regularly, will help you protect your natural lashes and keep them healthy.
3. Maintain the Look of Your Lashes
If you want your eyelash extensions to look their best, it's essential to keep them clean. Over time, dirt and oil buildup can cause your lashes to clump together, lose their curl, or become misshapen. Regular cleaning can help to prevent these issues and ensure that your lashes look great for as long as possible.
How to properly clean your lashes:
Use a gentle, oil-free cleanser specifically designed for lash extensions.
Wet a soft-bristled brush or spoolie with the cleanser and gently brush your lashes in a back-and-forth motion.
Rinse thoroughly with water and gently pat dry with a clean towel.
Avoid rubbing or pulling on your lashes, as this can cause damage or premature shedding.
In conclusion, cleaning your lashes is an essential part of any beauty routine, especially if you have lash extensions or wear false lashes regularly. Regular cleaning can prevent eye infections, extend the life of your extensions, and promote overall lash health. So make sure to add lash cleaning to your beauty to-do list to keep your eyes looking and feeling their best.