The Benefits of Permanent Makeup
Permanent makeup, also known as cosmetic tattooing, is a cosmetic procedure that involves the use of tattoos to enhance and define certain facial features, such as eyebrows, eyeliner, and lips. In recent years, the popularity of permanent makeup has grown significantly due to its many benefits.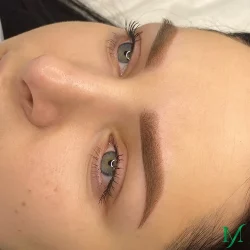 Time-saving: One of the biggest benefits of permanent makeup is that it saves time in the morning routine. Women who have their eyebrows, eyeliner, or lips tattooed no longer have to spend time applying makeup each day, freeing up time for more important things.
Convenience: Permanent makeup is a convenient option for those who have difficulty applying makeup due to physical limitations such as poor vision, shaky hands, or other disabilities.
Natural-looking: Permanent makeup is applied in a way that mimics natural hair strokes, which results in a more natural-looking appearance. This is particularly true for eyebrow tattooing, which can create the illusion of fuller, thicker brows.
Long-lasting: Permanent makeup is just that – permanent. Unlike traditional makeup that needs to be reapplied daily, permanent makeup lasts for several years and often requires only a touch-up every few years.
Water-resistant: Permanent makeup is resistant to water, sweat, and tears, making it an ideal choice for active individuals and those with busy lifestyles.
Low maintenance: Unlike traditional makeup that requires daily touch-ups and frequent reapplication, permanent makeup is low maintenance and requires only occasional touch-ups to maintain its natural-looking appearance.
Cost-effective: While the initial cost of permanent makeup may be higher than traditional makeup, the long-lasting effects and low maintenance requirements make it a cost-effective option in the long run.
Permanent makeup is a safe, convenient, and cost-effective option for anyone looking to enhance their natural beauty. However, it is important to research and select a reputable and experienced professional to perform the procedure to ensure the best results.
In conclusion, permanent makeup offers numerous benefits to those looking to save time, enhance their natural beauty, and simplify their daily routine. If you are considering permanent makeup, be sure to do your research and choose a qualified professional to ensure the best results.