Thanksgiving Lashes – Styling Tips to Match Your Holiday Outfit
As the Thanksgiving holiday approaches, we begin to plan not only our festive feasts but also our stylish ensembles. Thanksgiving is a time for giving thanks, enjoying good company, and looking your best. One way to enhance your holiday look is by styling your lashes to match your outfit. In this blog post, we'll share some tips and tricks to help you achieve a stunning and harmonious look with your Thanksgiving lashes.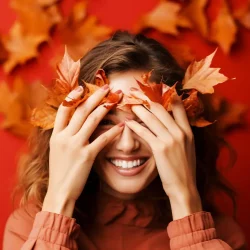 Match Your Lash Style to Your Outfit:

Just like choosing the right accessories, selecting a lash style that complements your outfit can make a world of difference. If you're going for a more casual, cozy look, natural lashes may be the way to go. For a dressier appearance, opt for dramatic volume lashes. Choose wispy lashes for a soft, romantic outfit, and bold, cat-eye lashes for a more daring look.

Consider Your Color Palette:

Thanksgiving is all about warm, earthy tones, so think about how your lash extensions can echo these hues. If your outfit features rich, autumnal colors like deep reds, oranges, or browns, you might consider lash extensions with subtle hints of warmth or gold.

Lash Length Matters:

The length of your eyelash extensions can dramatically affect your overall look. Longer lashes can open up your eyes and create a more glamorous appearance, while shorter lashes provide a more natural, everyday look. Match the length to your outfit's style and the formality of your gathering.

Maintenance Matters:

Ensure your lash extensions are in top condition before the Thanksgiving festivities. A pre-Thanksgiving lash touch-up appointment is a great idea to make sure your lashes are looking their best for the holiday.

Don't Forget About Lash Care:

Proper lash care is crucial, especially during the holiday season. Make sure to follow your technician's advice on cleaning and maintaining your lashes to ensure they stay beautiful throughout the Thanksgiving weekend.

Layer on the Mascara Sparingly:

If you want to add some extra drama to your Thanksgiving lashes, you can lightly apply mascara to your extensions. However, be sure to use a water-based, lash-extension-friendly mascara, and apply it sparingly to avoid clumping or damage to your extensions.

Consider a Lash Lift:

If you prefer not to get lash extensions but still want a stunning look for Thanksgiving, a lash lift can give your natural lashes a lifted and curled appearance, making your eyes appear more open and vibrant.
Thanksgiving is a time to give thanks, enjoy delicious food, and share memorable moments with loved ones. As you plan your outfit for the occasion, don't forget to consider how your lashes can enhance your look. Whether you opt for natural elegance or bold drama, your Thanksgiving lashes should complement your holiday outfit and help you feel confident and beautiful on this special day. To ensure your lashes are at their best, schedule a lash appointment ahead of time, and remember to follow proper care instructions. With the right lash style and a dash of confidence, you'll be ready to celebrate Thanksgiving in style.