Lip Blushing: What You Need To Know
Lip blushing is a cosmetic tattooing technique that involves adding subtle color to the lips to enhance their natural shape and color. The procedure is typically done using a small, handheld tattoo machine, which is used to deposit pigments into the lips. The result is a soft, natural-looking blush that can last for several years.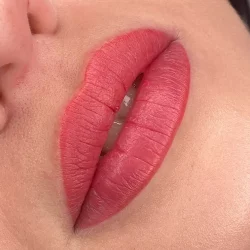 One of the main benefits of lip blushing is that it can help to create the appearance of fuller, more defined lips. It can also be used to correct uneven lip color or to add definition to the lip line. Additionally, the procedure can be used to neutralize the appearance of scarring or discoloration on the lips.
The process of lip blushing typically begins with a consultation with a trained professional to determine the desired shape and color for the lips. Before the procedure, the lip area is numbed to minimize any discomfort. During the procedure, the artist will carefully apply the pigments to the lips using a very fine needle.
After the procedure, the lips may be slightly swollen and may appear a little darker than the desired final color. It may take a couple of days for the color to settle and heal, after that the final result can be seen. It's important to follow the aftercare instructions provided by the artist, including avoiding sun exposure and not wearing lipstick or lip balm for a period of time.
It's important to note that Lip Blushing is a semi-permanent procedure and it will require touch-ups to maintain the color and shape, usually once a year, depending on skin and lifestyle. Always do a research and ask for portfolios or aftercare before choosing an artist.
Lip blushing can be a great option for those who want to enhance their natural lip color and shape without the need for daily touch-ups with makeup. With proper care, the results can last for several years, making it a convenient and long-lasting way to achieve the perfect lip look.