Exploring Fantasy and Colorful Eyelash Extension Options
If you're looking to add a touch of whimsy, creativity, or drama to your look, then fantasy and colorful eyelash extensions might be just what you need. Eyelash extensions are no longer limited to natural-looking enhancements; they now offer a world of vibrant and imaginative possibilities. In this blog post, we'll dive into the exciting world of fantasy and colorful eyelash extensions, exploring the various options available and how you can rock them.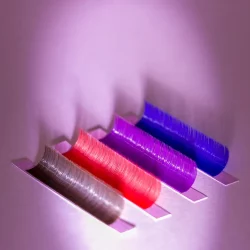 Rainbow Fantasy Lashes: A Burst of Color
Rainbow lashes are the epitome of vibrant and playful. These extensions come in a variety of colors, creating a rainbow effect along your lash line. Whether you choose a full spectrum of colors or opt for a specific theme, like pastels or neons, rainbow lashes are a fantastic way to express your creativity.
Mermaid-Inspired Lashes: Channel Your Inner Sea Siren
Mermaid-inspired lashes bring the mystique of the ocean to your eyes. With shades of teal, aqua, and iridescent blues, these extensions mimic the enchanting colors of the sea. You'll feel like a true mermaid, ready to conquer both land and sea.
Glitter and Gemstone Lashes: Sparkle and Shine
For a dose of glamor, consider glitter and gemstone lashes. Tiny rhinestones or glitter particles are delicately applied to your lash extensions, creating a dazzling, shimmering effect that's perfect for special occasions or a night out.
Feather and Metallic Lashes: Embrace Elegance
Feather and metallic lashes add a touch of sophistication and drama. These extensions incorporate feather accents or metallic foils, offering a luxurious and unique look that's perfect for formal events or photo shoots.
Unicorn Lashes: Whimsical and Enchanting
Unicorn lashes take inspiration from the mythical creature, offering a blend of pastel colors, pinks, purples, and even some holographic effects. These lashes are whimsical and enchanting, perfect for those who want to embrace their inner unicorn.
Galaxy-Inspired Lashes: Reach for the Stars
Galaxy-inspired lashes capture the vastness of the cosmos. With deep blues, purples, and shimmering metallics, these extensions transport you to the far reaches of the universe. Ideal for cosmic events or science fiction enthusiasts.
Ombre Lashes: A Subtle Transition of Color
Ombre lashes provide a more subtle approach to colorful extensions. They feature a gradual transition from one color to another, creating a beautiful, blended effect that complements your natural eye color.
How to Care for Fantasy and Colorful Eyelash Extensions
While fantasy and colorful eyelash extensions can add a playful or dramatic touch to your look, it's essential to care for them properly to ensure their longevity. Here are some care tips:
Use a gentle, oil-free lash cleanser to keep your extensions clean.
Avoid rubbing your eyes, as this can cause damage to the extensions.
Brush your extensions daily with a spoolie brush to prevent tangling.
Schedule regular touch-up appointments to maintain your lash look.
Be cautious when applying eye makeup, as excessive makeup can affect the extensions.
Fantasy and colorful eyelash extensions offer an exciting way to express your individuality and creativity. Whether you're attending a special event, celebrating a holiday, or just want to experiment with a new look, these vibrant lash options provide endless possibilities. Just remember to choose a skilled technician, follow proper aftercare, and enjoy the world of imaginative beauty that fantasy and colorful eyelash extensions offer.