Christmas Classics – Timeless Lash Extension Styles for the Season
The holiday season is upon us, and what better way to embrace the festive spirit than by adorning your eyes with timeless lash extension styles? As we delve into the magic of Christmas, let's explore classic lash looks that never go out of style, adding a touch of elegance and glamour to your celebrations.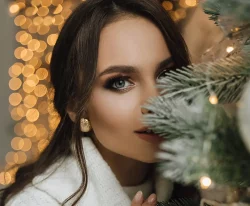 1. The Whimsical Wispy Wonderland
Transport yourself to a winter wonderland with the whimsy of wispy lash extensions. These feathery lashes effortlessly mimic the delicate beauty of snowflakes, creating a soft and enchanting look. Perfect for both daytime festivities and evening soirées, the wispy wonderland style complements any holiday outfit.
2. Santa's Little Helpers: Dramatic Volume
If you're aiming to make a statement this Christmas, opt for the dramatic volume lash extensions. Channel the spirit of Santa's little helpers with bold, voluminous lashes that enhance your eyes and give you a show-stopping gaze. This classic style pairs well with festive makeup, making it an excellent choice for holiday parties.
3. Evergreen Elegance: Natural Extensions
For a timeless and sophisticated look, embrace the beauty of natural lash extensions. Mimicking the lushness of evergreen branches, these extensions add subtle length and volume while maintaining a refined elegance. Ideal for those who prefer a more understated yet polished appearance, this style is versatile for any holiday occasion.
4. Tinsel Twinkle: Glitter-infused Extensions
Bring a touch of holiday sparkle to your eyes with glitter-infused lash extensions. Like tinsel on a Christmas tree, these extensions add a festive twinkle to your gaze. Whether you're attending a holiday gala or a cozy family gathering, the subtle shimmer of glitter lashes is sure to catch the light and turn heads.
5. Red Velvet Romance: Colored Lash Extensions
Inject a dash of color into your lash game with red velvet-inspired extensions. Embrace the warmth of the season with red or burgundy-colored lashes that exude romance and sophistication. This bold choice complements various eye colors and adds a pop of festive flair to your overall look.
6. Silver Bells Shine: Metallic Lash Extensions
Create a metallic masterpiece with silver lash extensions that mimic the glistening beauty of silver bells. This futuristic yet classic style adds a touch of modernity to your Christmas look, ensuring you stand out with a hint of metallic allure.
Conclusion: Celebrate in Style
As you embark on the joyous journey of the holiday season, let your lashes reflect the timeless beauty of Christmas classics. Whether you choose wispy, voluminous, natural, glitter-infused, colored, or metallic extensions, the key is to embrace the festive spirit and celebrate in style. May your lashes be as stunning as your holiday memories!